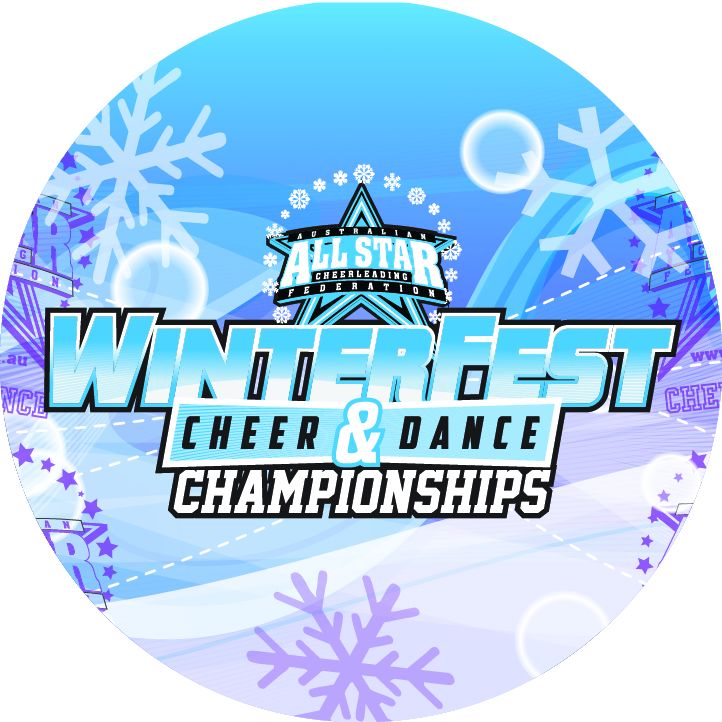 AASCF WINTERFEST SEASON STARTER
FROM MID-JUNE TO EARLY JULY

Why compete at Winterfest?
Even though Winterfest has a low entry fee, you will still enjoy a professionally run championship you have come to expect from AASCF, with all our usual bells and whistles including USA and Worlds judges.
A more relaxed championship where teams can get their routines on the comp floor and receive vital judges feedback in preparation for the upcoming ALL STAR BATTLE & AASCF STATE CHAMPIONHIPS.
It assists programs with attendance, placing an added pressure on coaches and athletes to get routines ready early!
The Point Review System for Cheer teams is there for you to discuss everything with our team of experts, whether its Cheer rules, scorecards or just ideas. As deductions are mainly warned at Winterfest, our Point Review System is there at your disposal for educational purposes
You receive all your FREE photos and videos of your performances – which is so important to have early in the season you can study your routines.
Australasian Cheer & Dance Pinnacle Bids are on offer at Winterfest – who will be Australia's first teams to win Pinnacle bids for the year?
You will have the opportunity to win CHEER Bids, giving FREE entry to Spirit Sports Duel in the Desert in Jan/Feb in Palm Springs, and Varsity Honolulu International Championship the following February – as they are 1 week apart, do one or stay for 10 days and enjoy both competitions.
You will have the opportunity to win DANCE bids to NDA All Star Nationals the following February.
AASCF offer all International Cheer & Dance USA Championship Bids (excluding Worlds) at Winterfest as it gives the clubs the rest of the year to fundraise and train. We select the most reputable competitions in the USA that are early in the year January/February, to have the least impact on the Gyms as well as athletes schooling. The bids on offer are for all age groups and all levels of cheer and styles of dance.
All USA Bids on offer are at Winterfest are - NDA, Spirit Sports Duel in the Desert & Varsity Honolulu International Championship.
2018 Spirit Sports Duel in the Desert x 4 cheer bids at each Winterfest
2018 Varsity Honolulu Internationals x 4 cheer bids at each Winterfest
2018 NDA All Stars Dance Nationals x 3 dance bids at each Winterfest
2017 Australasian Pinnacle: up to 5 cheer bids and 4 dance bids at each Winterfest
2017 WINTERFEST DATES (Friday nights are evening times only & usually Stunt & Dance Doubles)
NSW @ (Sydney Olympic Park) 9th- 11th June
QLD @ (Brisbane Entertainment Centre) 16th- 18th June
VIC @ (State Basketball Centre) 23rd - 25th June
SA @ (Titanium Arena) 31st June - 2nd July
AASCF 2017 WINTERFEST PROMO VIDEO
To enter your team pls complete the forms below and email to kerry@aascf.com.au or post to
AASCF
PO BOX 7012
UPPER FERNTREE GULLY VIC 3167
2017 AASCF CHEER & DANCE INFORMATION PACKAGE
2017 AASCF ATHLETE WAIVER/MEDICAL RELEASE
2017 AASCF CHEER TEAM ENTRY FORM
2017 AASCF DANCE TEAM ENTRY FORM
2017 ATHLETES REGISTRATION LISTING & COSTING ENTRY FORM
---
---
2017 QLD & VIC WINTERFEST SPECTATOR TICKETS WILL BE AVAILABLE AT THE DOOR ONLY
SA WILL BE AVAILABLE ONLINE ASAP
FRIDAY, EVENING
$7.50 - Adult (13yrs+) $5.00 - Conc. (Senior & Pensioner- Valid Id Required, Must be shown upon entry) $5.00 - Junior (5 - 12yrs) $20.00 - Family (2A + 2J) - NO Concession
FRIDAY tickets are "stand alone" in that they only allow entry to the Friday evening session
SATURDAY
Spectators can either purchase a ONE day ticket $20.00 which will give them access on the Sat only or a TWO day ticket $30.00 which will give them access to Sat and Sunday
SUNDAY
Spectators can purchase a ONE day ticket $20.00 which will give them access on the Sunday only
One Day Pass TICKET PRICE: Adults $20.00 Concession $15.00 Child (5-12 Years) $10.00 Child (5 years & under) FREE Family Pass (2 adult/2 children) $50.00
Two Day Pass Adults $30.00 Concession $20.00 Child (5-12 Years) $15.00 Child (5 years & under) FREE Family Pass (2 adult/2 children) $75.00
Please Note *A junior is considered a CHILD who is 5-12 years old; under 5 years old will be admitted free of charge but will be required to sit on an adult lap. *Concession = Seniors Card or Pensioner Card - this must be shown at ticket pick up *Family = 2 adults + 2 Junior - No concession