AASCF NATIONAL CHEER & DANCE CHAMPIONSHIP
2017 AASCF NATIONALS FRIDAY HIGHLIGHT VIDEO
2017 AASCF NATIONALS SATURDAY HIGHLIGHT VIDEO
2017 AASCF NATIONALS SUNDAY HIGHLIGHT VIDEO
AASCF has conducted the Australian All Star Cheer & Dance Championship NATIONALS since 2006. It is the highpoint of Championships in our country, with over 1400 teams and over 10,600 athletes competing over the week-end which is traditionally the last week-end in November.
Nationals is truly a celebration of our sport and is a sea of Bows for 3 full days and nights.
*Please note: Primary & High Schools Scholastic Nationals is in October, as such we will not be awarding Grand Champions at the All-Star Nationals in these divisions due to the main of Primary and High School attendance is at Scholastic Nationals. Also, Tiny & Mini Teams, all Novice Teams, Primary & High School Teams and Stunt & Dance Doubles will be on the Friday midday to late evening.
AASCF NATIONALS CHAMPIONSHIP OFFERS:
Gorgeous 1st to 5th place trophies
Placing Medals for all athletes to 3rd place in all divisions
Participation medals for all athletes
Rock Star lighting in all halls
Grand Champion Banners in every level & style - excluding Novice, Primary & High School, Adult, Open level 1, Stunt and dance Doubles.
FREE Grand Champion Jackets to all Grand Champion winning teams
Purchasable National Champion Jackets to all winning athletes
Our standard professional and International judging team & score cards
Free professional photos & videos for all athletes and coaches
Coaches and athlete gifts for all
AASCF NATIONALS IS THE ROAD TO WORLDS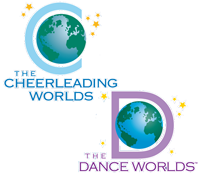 AASCF Nationals is where Elite teams get their BIDS to the World Championships, offering 20+ Cheer & Dance bids.
The Cheerleading & Dance Worlds.
This competition is only open to teams who have been invited to attend as a "bid" winner. The International All Star Federation (IASF), utilises member companies (including the AASCF) to select bid winners at their competitions and those athletes come together in April to really test the limits and see who the true World Champion is.
Each event producer, hosting a Worlds qualifying event, has the discretion to select the divisions and process the bids are awarded. AASCF bid winners of the "Partial Paid" bids will be awarded a specified dollar amount towards the team's travel package to Worlds.
As the first international USASF/IASF member company in Australia, AASCF will select Partially Paid Bid cheer & dance bid winners at the Australian All Star Cheer & Dance Championship. If the bid winners should select to compete at the Worlds, AASCF will provide support options to help fund the trip.
All Australian cheer teams performing at level 5+ and elite dance teams are eligible to be selected for this prestigious honor. Selections of bid winners are based partly on score and partly on judge panel criteria. All decisions are final. AASCF will work closely with our Worlds bid winner(s) to support the process for everyone involved.
International Open Cheer Teams age restrictions
International Open Level 5 teams: an athlete must at least be 14 years of age on or before December 31, 2018. Please note: Athletes that are not 14 on or before December 31, 2017 may not compete in an Open Level 5 team before July 25, 2017
International Open Level 6 teams: an athlete must at least be 17 years of age on or before December 31, 2018. Please note: Athletes that are not 17 on or before December 31, 2017 may not compete in an Open Level 6 team before July 25, 2017
COACHES PLEASE NOTE: Worlds Bids are no longer carry over to the following year. Teams must be prepared to accept the Bid for the Worlds directly after winning their Bid. Do not enter bid winning divisions if you already know your team cannot go to worlds that upcoming year.
Winning teams must use the athletes that won the bid for Worlds. Worlds Cheer Teams can only have 8 substitutes going into worlds and they all must be current ongoing members of their own gym of whom competed during the Australian Cheer Season (June to November) leading into Worlds.
Coaches have only 72 hours to accept the Worlds Bid; as such teams should have already put a basic plan in place leading into Nationals just in case they win.
Athletes, Substitutions and Alternates
All athletes participating on a team at the 2018 Worlds must be a registered member of that team's gym during the current competition season, which is June to November 2017 for Australia. Any athlete that has competed on the floor with a team in any level from a different gym (primary gym), during the 2018 Worlds competition season (2017 June to November for Australia), must have a USASF Gym Release Waiver signed by the primary gym owner to be eligible to compete with a secondary gym at the 2018 Worlds. On The Cheerleading Worlds roster, each athlete's name must be identified as an original, substitute or alternate participant of the team that was on the floor when the bid was received. All team roster names will be verified by the event producer who awarded the bid.
Worlds Substitution Rule
Maximum number of substitutions:
International Open Teams - 8
The allocated maximum number of substitutions will be allowed per team for The Cheerleading Worlds. A substitute must be a regular-paying participant from another team at the same gym and must have competed "on the floor" with that team from that gym at the same event where the bid was awarded. All substitutes must meet the same eligibility requirements as the original team that was awarded a bid (i.e. age, etc.).
Worlds Wild Card
Alternates Rule Of the allowable maximum number of substitutions (above), one to three of those may be Wild Card alternates. Wild Card alternates are registered members of the same team's program that received the bid. Wild Card alternates do not have to be rostered or in attendance at the Worlds bid qualifying event where the bid was received
International Open/Coed - Level 6 Alternates
Teams must present a USASF roster at their bid-qualifying event that includes names of the athletes performing "on the floor" at that competition. Additionally, the same Open-Level 6 teams can present (to the EP) a list of up to 10 additional names of athletes (eligible substitutes/alternates) that are members of the gym/program but did not have the opportunity to perform "on the floor" at that event. Those 10 additional athletes must follow the same eligibility, substitution and alternate guidelines for Worlds, including the guidelines requiring a Gym Release Waiver
Roster Violations at The Cheerleading Worlds
If a team is found to have made an improper substitution or alternate, or has an illegal team member, this team:
will be disqualified.
may be responsible for repaying the total cost of any funds received through a paid bid.
may be prevented (along with the entire program from that gym) from being eligible for any type of bid to The Cheerleading or Dance Worlds for the following year.